to dinner - Cheezy Tomato Crumble
For this plant based DINNER recipe we will make a cheezy cashew cream using one of my plant based staples: Nutritional yeast.
HIGHLIGHT: NUTRITIONAL YEAST
Nutritional yeast is a great kitchen staple to have especially if you love cheese!
CHEEZY TOMATO CRUMBLE
+ SAVORY CRUMBLE
+ CHEEZ CASHEW CREME
recipe inspired by: Green Kitchen Stories
recipe type: plantbased, vegan, glutenfree, dairyfree
what you need:
for the base:
700 g tomatoes, ripe
1 tsp sea salt
2 tbsp apple cider vinegar
BECEL butter, to butter up your baking dish
+ Savory crumble (recipe below)
+ Cheesy cashew crème (recipe below)
what you need:
for the savory crumble:
140 g rolled oats, gluten-free
6 tbsp almond meal/flour
1/2 cup nutritional yeast, depending on your desired cheezy flavor
4 sprigs thyme
1 tbsp of dried basil
handful of sundried tomatoes, chopped
1 pinch sea salt
100 g BECEL butter

what to do:
Preheat the oven to 175°C
Grease a baking dish with butter.
Rinse the tomatoes and cut in halves. Place in a baking dish and toss with sea salt and apple cider vinegar.

Prepare the crumble in a separate bowl. Start by thoroughly mixing oats, almond meal/flour, nutritional yeast, dried basil, chopped sundried tomatoes, thyme and sea salt. Cut the butter into small pieces and mix in with to the oat mixture. U might want to use your hands to create a crumble texture. Pour the crumble over the tomatoes. Bake in the oven for 40 min until the crumble has browned. You could set your oven on grill-stand for just a few minutes to, To really get that crust. Serve it with the cheesy cashew crème and greens on the side.
FOR THE CHEEZY BLACK PEPPER CRÈME:
1 cup cashews, soaked overnight
¾ cup filtered water
½ tbsp black peppercorns
¼ cup lemon juice
1 tbsp nutritional yeast
1 tsp sea salt
Using a high-speed blender, blend all ingredients until smooth. Taste and adjust flavor, if needed.

SUPER HACK CASHEW CRÈME SAUCES:
Plant Based BASIC SAVORY Cream (use as a base for other sauces):
4 cups cashews
1/2 cup of water
5 tbsp lemon juice
2 tbsp apple cider vinegar
1 tsp saltSoak cashews for 4 hour to overnight.
Rinse and drain water.
Place in blender add all ingredients and blend until creamy and smooth
Good base to make other recipes like:
Chilli cashews:
1/2 cup raw cashews
1 tsp curry powder
2 pinches ground paprika
2 tsp raw honey
Sea salt
Place all ingredients in food processor and blend until mixture is smooth and all ingredients are mixed in evenly (1-2 minutes)

Cilantro Garlic Sauce:
1 1/4 cup Basic Cashew Cream
1 1/2 cup cilantro (1-2 bunches, add more for storing cilantro flavor)
1/4 cup like juice
1 tbsp minced garlic
1 tsp minced ginger
1/4 tsp salt
Place all ingredients in food processor and blend until mixture is smooth and all ingredients are mixed in evenly (1-2 minutes)
Herb Sour Cream:
1 1/2 cups sour cream (cashew base)
1 cup fresh dill (do not use main stem, small stems fine)
2 tbsp fresh thyme
2 tbsp fresh basil
1 tbsp chopped garlic
Blend on chop in food processor until all herbs are evenly chopped. Remove lid in between chopping to keep the herbs from sticking to the sides of processor.
Vegan Cashew Pesto:
1 bunch of basil (about 1 cup. Save some extra leaves for garnish)
¾ cup cashews
¼ cup oil
2 cloves garlic
2 tbsp nutritional yeast
2 tbsp lemon juice
¼ tsp salt (or to taste)
black pepper to taste
Peel the garlic, and juice the lemon.
Toss everything (basil, cashews, olive oil, garlic, nutritional yeast, lemon juice, salt and pepper), into a food processor. Pulse until everything is ground into a paste, but it still has a bit of texture. You will probably have to stop and scrape down the sides.
Make various flavor combinations by playing around with these herbs and spices:
+ add in ground turmeric
+ add in tahini
+ mustard
+ smoked paprika
+ chilli
+ cumin
+ apple cider vinegar
+ garlic
+ basil
+….

USE THAT STAPLE CASHEW CRÈME WITH:
Zoodles:
zucchini noodles + almond milk + nutritional yeast + black pepper
Root Pasta:
noodles sweet potato + noodles red beet + mint or cilantro
As a dressing:
on any salad with roasted veggies, especially butternut or sweet potato.
on a chickpea socca flatbread
swirled in a grain bowl
With pulled butternut taco's:
smashed slow roasted butternut + taco's + salsa + guacamole.
As a dip:
served with roasted carrots, cucumber, celery sticks, radishes,...
Whisked in a soup:
red beet soup, sweet potato soup, butternut soup
As a base on a toast:
sourdough toast with roasted tomatoes
a sweet potato toast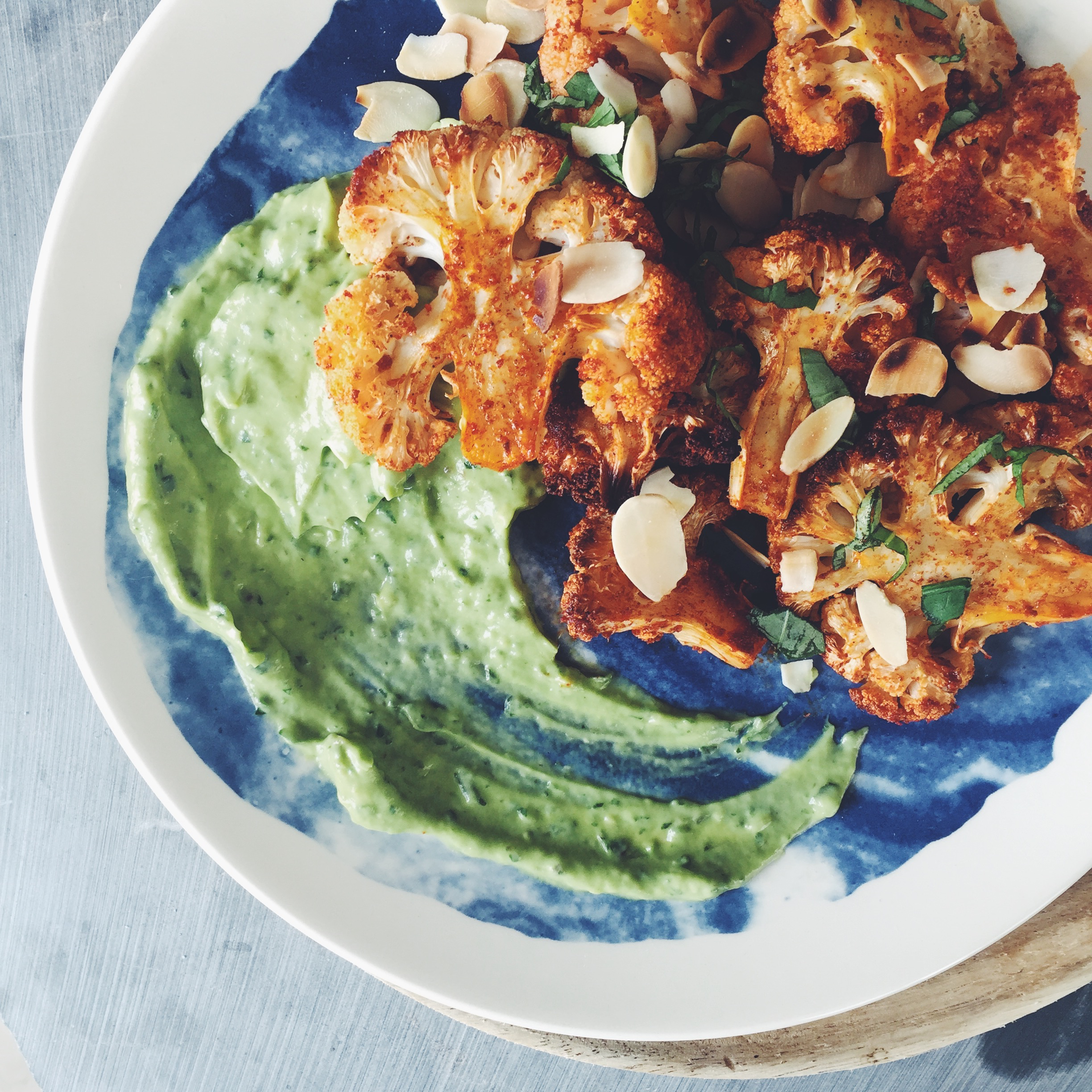 Cauliflower
Tandoori Steak
cauliflower
+ tandoori spices
+ coconut yogurt
+ toasted almonds
OTHER PLANTBASED DINNER IDEA'S:
Cauliflower Steak: Slice a cauliflower into thick slices. Bake them in a skillet. Serve with green and add a dressing.
Cauliflower Rice: Blitz cauliflower in a blender to create rice. Use as a substitute for any of your rice dishes

Cauliflower Pizza: Use cauliflower rice to create a pizza bottom to any of your toppings