to breakfast - plant based pancakes
HAVE A PLANTBASED BREAKFAST....
Making is plant based breakfast is easier than it looks! You probably have one everyday without knowing! A fruitbowl, porridge or oatmeal, a pudding, toast with avocado, granola, a granola bar, a smoothie...
But I'll teach you how to make plant based pancakes with some of my plant based staples: Cashews for a Cashew Creme and Chia seeds for a Berry Chia Jam.
ps: This is one of the four recipe post I have created for Becel, by using their plant based oils for cooking and baking.

HIGHLIGHT: CASHEWS
Cashews are great to have on hand and will quickly make their way as your plant based staple! By blending soaked and softened cashews you can create delicious plantbased sauces, dips, a plant based milk, a plant based chia yogurt,..
For this breakfast recipe we will make a creamy and incredibly indulgent, guilt-free, sweet cashew cream by adding maple syrup and gingerbread spices to the blend.
HIGHLIGHT: CHIA SEEDS
Chia seeds have this amazing ability to soak up liquid, swell up and create a gel/yogurt texture.
Often used in plant based cooking, this nutrient packed seed serves as a replacement for an egg. U can use the chia seeds just like that, whisked with water or a plantbased milk. But if you don't like the texture of the little seeds, you can blend them with a liquid. They will keep that gel-forming ability. Chia seeds don't really have a flavor. So use your favorite nut milk, spices, shredded coconut, a date, vanilla, fruit juice, fruit compote... to turn your chia pudding into a flavor bombe.
In this recipe we will use chia seeds to create a plantbased 10min. fruit jam. By simply blending up any fruit of choice with some water and chia seeds. The gel forming ability will turn any fruit into a quick and easy jam.
VEGAN PANCAKES + MAPLE CREME + BERRY CHIA JAM + PECAN CRUNCH
serves 1 / makes approx 3 pancakes
what you need:
1/4 cup buckwheat flour, or gluten-free oatmeal flour, made by blending buckwheat or oats into flour
1 tbsp flaxseed meal, or blended flax seeds
1/8 tsp of baking powder
1/4 cup of mashed banana (or mashed ripe pear or apple compote for sweetness)
1/3 cup almond milk (or coconut or rice or any plant milk of choice)

+ maple cashew crème ( recipe below)
+ berry chia jam ( recipe below)
+ walnut or pecan crunch (recipe below)
+ bananas and blueberries to serve
what to do:
In a mixing bowl combine flour, flax meal and baking powder. Stir through the mashed banana. Gradually add the almond milk till well combined. You want the mixture to be a bit wetter than a cake batter, but not to runny. If you add all of the milk and need more liquid, simply add a little more.
Heat a pancake pan or skillet to a medium heat and add a dash of oil. Use a kitchen paper to coat the pan evenly and remove excess oil.
Spoon the batter into the frying pan to create two pancakes if you have the room.
Allow the pancakes to cook until little bubbles form on the top or if you see the edges browning and you can wiggle a skillet underneath the pancakes.
Flip over to cook the other side.

to serve:
Create layers with the pancakes, the Maple Cashew Crème, Berrie Chia Jam and Pecan Crunch. Top with more creme, jam and crunch. Add blueberries and slices of banana.
MAPLE CASHEW CREME
makes a jar
1 cup cashews (soaked for at least 4 hours)
¼ cup coconut milk or water, or more depending on desired creaminess of the cream
1 teaspoon of gingerbread spices ( or a mix of cinnamon, ginger, nutmeg, cardamom, anis seed and black pepper)
2 tablespoons of maple syrup
¼ teaspoon of Himalayan/ pink salt

Soak the cashews in water for at least 4 hours. Discard the soaking water and rinse the cashews. Place in a high speed blender. Add spices, sweetener and sea salt. Add the coconut milk or water according to desired consistency. Step by step until desired creaminess is reached. Use immediatlely or store in an airtight jar in the fridge up to 3 days.
BERRY CHIA JAM
makes 1 jar
1 cup of berries or chopped strawberries, blueberries,… frozen or fresh
1 tablespoon of water
1 tablespoon of chia seeds
optional:
1 tablespoon of maple syrup ( or a date, to taste or depending of the season)
1/2 tablespoon of lemon juice
vanilla exctract…

Place all ingredients in a high-speed blender. Blend until everything is well combined.
Pour into a jar. And let the chia seeds work it' s magic and thicken the mixture. If to thick, add more liquid and stir.
WALNUT OR PECAN CRUNCH
handful of walnuts or pecans
maple syrup, enough to coats walnuts or pecans
sea salt, a pinch
In a bowl, coat the walnuts or pecans with maple syrup. Add a pinch of salt and mix well.
Spread mixture on a baking tray and place in a pre-heated oven.
Bake until golden. Be careful, don't let the maply syrup burn.
Once the baking sheet is removed from the oven, the maple syrup will harden and set. Once cooled, chop the nuts into a crunch. Sprinkle between your pancakes. You can also make a batch and use as a topping on a salad, on your oatmeal, on toast, on baked fruit on your avocado toast,...

NOTE:
You can easily create buckwheat or oatmeal flour by blending up buckwheat grouts or oats in a high-speed blender. Buckwheat has a strong flavor, so don't hesitate to substitute with oat flour or rice flour, if you want to keep the pancakes glutenfree. Flax seeds are what binds the pancakes together. They are used as the replacement of eggs. If you don't have these on hand you can use blended chia seeds or psyllium husk.
These pancakes aren't on the sweet side, but keep in mind that you will top them with fruit, the cashew crème and berry jam. Or a good drizzle of maple syryp. Giving them plenty of sweetness. You could also create a savory version of these pancakes by using apple or pear as a sweetener and adding some salt.
USE THAT STAPLE CASHEW CRÈME IN:
Oatmeal: oats + plant based milk + cashew creme + fruits of choice
Chia pudding: chia seeds + plant based milk + cashew creme + fruits of choice
Avocado Pudding: avocado + plant based milk + sweetener + hazelnut paste
On toast: toasted sourdough + cashew creme + slices of fruit
Baked fruit: oven baked fruit + cashew creme drizzle
Fruit salad bowl: seasonal fruits + nuts and seeds + cashew creme
OTHER PLANTBASED BREAKFAST IDEA'S:
Smoothie: banana or ice cubes + fruit of choice + plant based milk + spices
Sweet Potato Toast: Toasted slice of sweet potato + nut butter or cashew crème + fruits
Scramble: chickpea flour + almond milk + tahini + sea salt + blend and bake as a pancake.
Nut and Seed bar aka A Breakfast Cookie
Granola Bowl: granola of choice + plant based milk + nuts and seeds + fruits
Beetroot Overnight Oats with Coconut, Toasted Pumpkin Seeds and Chocolate Cacao Nibs
OATS
+ BEETROOT
+ CACAO
+ TOASTED PUMPKIN SEEDS
SWEET POTATO
+ ALMOND BUTTER
+ AVOCADO
+ GRILLED VEGGIES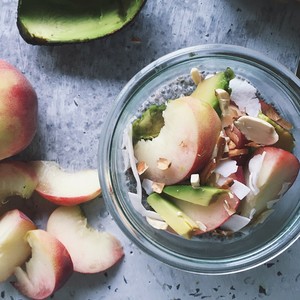 CHIA
+ PLANTBASED MILK
+ SEASONAL FRUIT
+ TOASTED NUTS AND SEEDS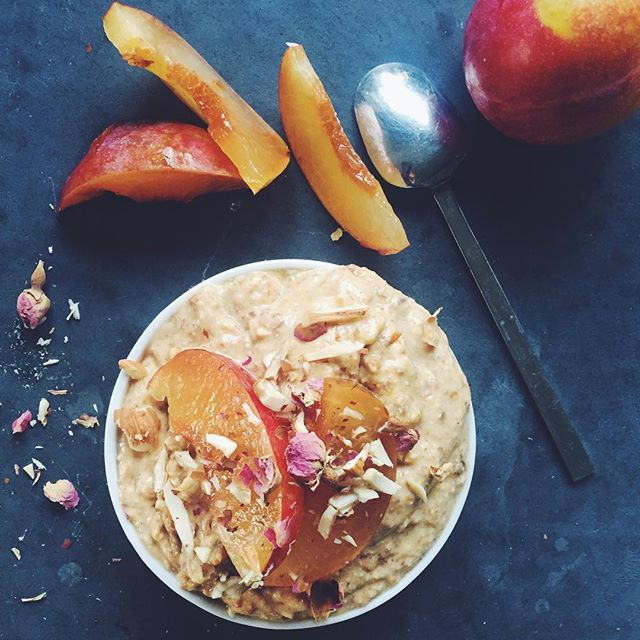 Almond Apricot and Rose Yoghurt
+ ALMONDS
+ APRICOT
+ CARDAMOM
+ COCONUT MILK